Romans 10:14 (KJV)
How then shall they call on him in whom they have not believed? and how shall they believe in him of whom they have not heard? and how shall they hear without a preacher?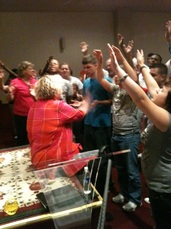 For over 47 years Nancy Harmon has traveled the world spreading the Gospel through her songs and her preaching. Nancy's anointing is evident in every service, every song, every prayer she prays over individuals. Her heart's desire is to continue doing what God has called her to do: reach the lost, spread hope to a world that is crying out for Him, raise up a generation - a NEW BREED - that will not compromise their calling or bow their knee to baal.

If ever there was a time that the world needs to know Jesus, it is NOW! Will you partner with Nancy Harmon Ministries to help reach the lost and continue her calling?



---